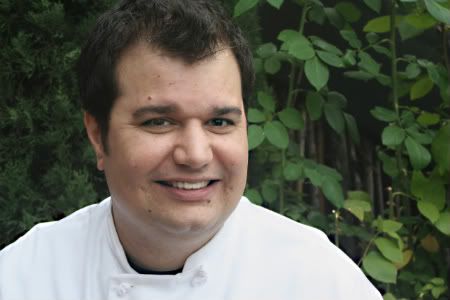 In a few months, Eugeneans will have a new Italian food option. Come spring, Rocky Maselli, the executive chef at
Marché
, is opening
Sfizio
in Oakway Center.
Like Marché, Sfizio will use local producers "for almost everything," says the press release, which describes the restaurant as follows:
This 96-seat Italian eatery will be open for lunch and dinner seven days a week, with brunch on Saturdays and Sundays. In warmer weather, seating will spill out onto the courtyard of the Oakway Center and expand to serve more than 130 guests. But food and drink will be the central focus. The interior is designed around the open kitchen and bar, where patrons can be in the middle of the action at the 18-seat kitchen-bar counter. Private booths and a long family table will offer a range of experiences, from a family night out to a convivial business dinner or lunch with friends.
Maselli is working with architect Dan Hill on a space that will combine "the sleek feel of modern Italian design with the warmth and green sensibility of the Pacific Northwest" using sustainable materials including finished concrete, locally sourced wood and reclaimed timber.
I'd like to suggest we greet this news with a collective "Huzzah!"
UPDATE: After talking to Maselli, I don't know what to be more excited about: the promise of Sfizio's house-made pasta and house-cured meats, or the fact that former Bel Ami bartender Jeffrey Morgenthaler is consulting on Sfizio's cocktail menu (I take my delicious cocktails very seriously). Let's just say that the news about Maselli's new place is welcome on multiple levels.
Maselli says he's been planning to open an Italian restaurant off and on for a few years. Sfizio will make its home in Oakway because, he says, "it's a great location" for a handful of reasons, not least the courtyard, the already-in-place kitchen infrastructure, the limited dining options on the north side of the river and the distance from restaurants operated by friends and family. Though the space is currently occupied by Oakway Wine & Deli, Maselli says it will be unrecognizable when Sfizio opens.
But enough about the place; what about the food? Sfizio's menu will be very traditionally Italian, but with an eye to the local and seasonal offerings of the Willamette Valley. "I'm kind of modeling it after an osteria, which is a kind of a tavern," Maselli says, explaining that an osteria is a kind of country restaurant, more casual than a ristorante, that specializes in local ingredients. The menu will include a take on bistecca Fiorentina "that's just going to be gigantic" — big enough to serve five or six! — lots of appetizers and a weekly supper menu. Maselli says he thinks they'll open with the supper menu, which will highlight a different entrée each day of the week, served as an all-inclusive meal. He estimates that prices will range from about $6-$14 for appetizers to "well under" $20-$25 for entrées. Pasta dishes should be from $10 to $18. "That's the great thing about pasta," Maselli says. "You can't really charge too much for it."
Along with six beers on tap and what the press release calls "Eugene's favorite cocktails," Sfizio's bar will have a wine list that Maselli says could potentially be the best Italian list in the state (he prefaces this by saying "I hate to start a competition or anything, but …"). The wines will be affordable and the list will highlight everything Italy has to offer, he says. But in keeping with the spirit of the osteria, Sfizio will also have a house red and house white served in pitchers. "That's very much osteria style. The local wine is just decanted; they put a spigot in a barrel of wine and pour it that way. I'm going to see if I can't swing getting barrels," Maselli says.
As for staff, Sfizio's chef, Alex Bourgidu, comes from Portland's Genoa restaurant and has a restaurant of his own in North Bend. Maselli says he's "working very hard" to lure Morgenthaler from Portland's Clyde Common. "It's tough," he says. "Maybe if Eugene applies a little pressure, he'll break."
Maselli is shooting to open Sfizio in May or June, depending on how quickly everything comes along. "I'm super, super excited," he says. He's not the only one.