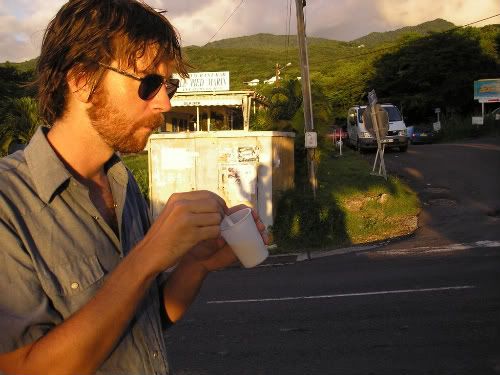 This week, dive-loving music writer Jeremy Ohmes previewed Doubles, the new solo album from Patrick Hayden, whom Eugene music fans may also know, as Jeremy noted, from a handful of other projects. I wasn't quite sure where Hayden's possibly-best-known ensemble, Deke Falcon, stood on the matter of breakups and reunions and members leaving town, so in the midst of reading Jeremy's story, I emailed to ask. Hayden's response was worth of its very own post. So here you go.
Deke Falcon reunites as much as possible, but Dave [Clark] and Jordan [Glenn] are both away at their various versions of "art school," and Will "mango" Lindsey has been busy being (until recently) a Metal Blade Recording Artist. Doubles is not so much a band name or even a unified concept as it is a vague reference to Deke Falcon's great, "lost" second album … which will one day see the light, I swear, if for no other reason than to function as a kind of corrective or revision of the semi-annoying perception of our band as a bunch of boilermaker-swilling, doo rag-donning mill workers. The reality is far less flattering: As any Mex Pistol could tell you, Deke Falcon was really just a bunch of scarf-wearing art waifs.

But the Doubles songs were written at the same time as the latter-day Falcon activity, and sort of function as more challenging, sometimes lugubrious "cousins" to their more bar rock-y Falcon foils. Among other things, recording the album was an opportunity for Jordan Glenn and Patrick Hayden to indulge certain idiosyncracies and explore the margins of the rock song structures that Deke Falcon approach with more of a reverent, historical re-enactment vibe. That said, we actually have played one or two Falcon songs without it seeming too "greatest hits"-y, I think.

While my Snider, Smith, Walker (feat. Dan Jones) lineup is not really a "new band" as such, it does bring to fruition a bunch of my key musical associations from recent years. Drummer Rob Smith — who also did the amazing pen and ink cover drawing — was my college roommate and a co-conspirator with me on the Nasvhille indie scene of the early 2000s. Guitar player and geologist Barry Walker is another frat brother from the TN days. It's nice to have this occasion to sorta "introduce" these two beloved Dixie badasses to Eugene rock audiences, and adding Dan Jones and [Dave] Snider to the mix really raises my own expectations of a full-blown, "Varsity Team"-level performance that is actually giving me a nervous tic, at the moment. I better go do some pushups.
There you have it. Patrick Hayden's varsity team CD release is this Saturday night at Sam Bond's. Go forth and listen!