Update, August 2009: Sadly, Bar 201 is now for sale.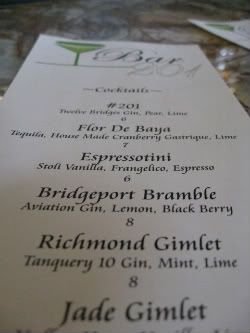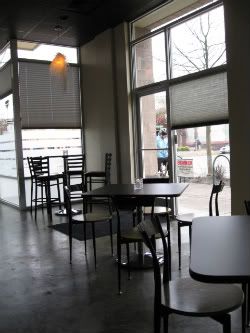 The corner of Charnelton and West Broadway just got an upgrade. Bar 201, which fills the space most recently left empty by the closing of the Moxie, is quite a charmer: a clean, urban space with quirky touches like feathery lamps and a wall tiled with green and gray squares that look, somewhat playfully, like they belong on a climbing wall. As bar manager Richard Geil said, it's reminiscent of a Pearl District spot.
Keep reading for more details and pictures.
We arrived early, while it was still light out, but this is a space that really comes together once it gets dark. Small hanging lamps spotlight the bar, and the feathery light fixtures that hang throughout (with one angular oddball in a corner) soften the feel of the dark, simple flooring and furniture. Behind the bar, glass shelves hold the liquor; the ubiquitous mirrors behind the bottles make the room a little bigger, though it's plenty comfortable to begin with — especially once you wander into the east side of the bar, where a low countertop against the wall of windows offers peoplewatching on Charnelton Street.
Two glass tubs sit midway through the liquor lineup: one holds the pineapple-habanero infusion that was popular at Bel Ami — where Geil and bartender Aidan Keuter previously worked — the other a strawberry infusion that Geil says they haven't decided what to do yet. Geil's also got a bottle of grapefruit bitters brewing, and the dark and stormy is made with house-made ginger beer. More house-made ingredients slip into other drinks, including the cranberry gastrique in the flor de baya.
My companion chose the #201, made with gin, Clear Creek pear brandy and lime, while I went for the jade gimlet, with vanilla, vodka and lemon (or was it lime?). We tried the house-made tonic (in the glass above), which currently has a fruity kick thanks to the addition of kumquats, and eventually opted for a small array of favorite cocktails, including a lovely French 75, a gorgeous Manhattan and a bright negroni. We didn't get food, but my nose twitched when the table next to us ordered from the small menu of burgers, sandwiches and salads — it smelled delicious. The bar's happy hour, which is more of a happy evening, is worth noting; it runs from 4 pm to 7 pm daily.
Our evening started fairly quietly — and nicely so, with one bartender's iPod playing Yo La Tengo in the background — but picked up as it grew dark out. A few other Eugene bartenders came through, along with Oakshire's Jeff Althouse and BoozeWeek's Elliot Martinez, notepad in hand. Two tables, the bartenders noted, were filled with people who'd just passed by and opted to come in. And with good reason: Bar 201 is doing pretty much everything right (though a few more bottled beer options wouldn't hurt). It's a superbly put together, appealing space; the drinks taste great; the bartenders are friendly, talented and excited about what they're doing; and the bar's character is something a little different for Eugene. The emphasis is on cocktails, but it's not a restaurant bar; it's located downtown, at the edge of the Barmuda Triangle, but it's mellow and intimate and a little bit spare (the closest comparions that come to mind in terms of the space are Uva Wine Bar, with its slightly cozy-industrial feel, and tiny but superb bar at Marché). Bar 201 doesn't so much replace another stop in your libation rotation as give you a welcome new option — one I think I'll be taking fairly regularly.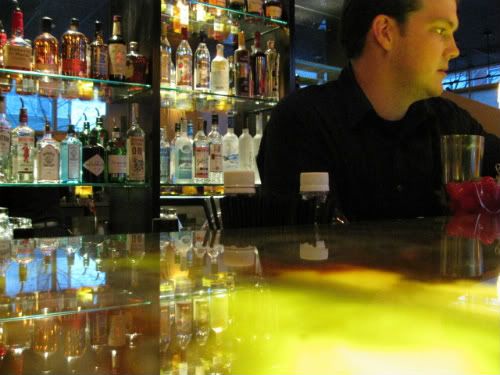 … and while I'm speaking of new options, Albee's N.Y. Gyros, on 11th between Lincoln and Lawrence, is a welcome addition to the list of near-to-downtown lunch options. I could do without the non-recyclable styrofoam take-out containers, but these suckers are so big they don't fit tidily into a piece of foil. Five-dollar gyros in no time at all? Yes, please. (Dear vegetarians: falafel and spanakopita are also on the menu. I plan to try them all, and soon.)