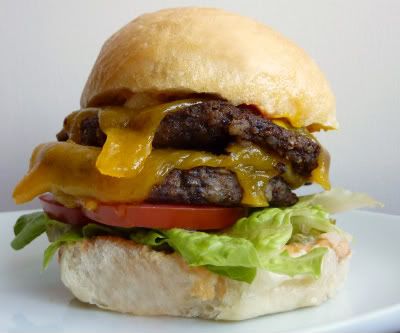 Just look at that burger. Just look at it. Do you want to eat it yet? It's vegetarian. But don't let that stop you.
"I started dreaming of opening a vegan fast food burger joint when I went vegan 14 years ago," says Cara Eddo, whose Eddo Burger food cart debuts Saturday. Eddo's name might sound familiar; she was Eugene's Sexiest Bartender in 2008, when she was at The Vintage, making homemade maraschino cherries or limoncello. "I've just always made stuff," says Eddo. "Whatever I'm doing, I always try to sneak food into the process."
Eddo says that when she went vegan, she realized there weren't any "quick, really damn good" options for the meat-free. She recognizes that there are many more veggie options these days, but hopes the Eddo Burger — the evolution of which involved "about a million recipes and a hundred dinner parties" — will stand out.
Nearly everything at Eddo Burger is made from scratch using local, organic and mostly gluten-free ingredients. The burger is the centerpiece, but the menu also offers tofu nuggets, sweet potato fries, the "Western Fakin' Cheeseburger," breakfast sandwiches, hash browns and curly churros.
Eddo says she's excited to be part of the Northwest's growing food cart scene, but her ambitions don't stop in Eugene. "The ultimate goal is to bring my menu to the entire country, in the form of a veggie fast-food chain, complete with drive-thru/bike thru. I'm serious," she says. For now, though, the first Eddo Burger opens at noon Saturday, April 17, in the Tiny Tavern parking lot (394 Blair Blvd.). The cart will be open until late evening, and Tiny's is right there for rock and beer, too. EDIT: The Underlings and The Latrines play at 4 pm ('til 6) as part of the opening festivities.
Please go eat a burger for me, as I'm out of town. OK? Thanks.