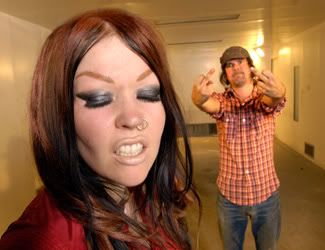 Editor's note: This one slipped right by me, but I figured better late than never. Here's frequent
EW
contributor Vanessa Salvia on Jucifer, who play tonight! Short notice is no excuse for not leaving the house!
Between the 51 concert-going years Ed and I have between us, we reckon we've seen as many bands as there are grains of sand on the Oregon coast. Many of them were forgettable. Some of them quickly became mythic experiences that came alive again each time people start talking about music.
Jucifer is one of those bands for both of us. Some of our stories — like the time Ed's overly-martini-ed friend stumbled onto Jucifer's RV, which was parked in front of Indigo District, and got bitten by one of their dogs — may not be quite as hysterical to read in print as it is if you are having a beer or trading anecdotes at work. But when the discussion veers to music, it's easy to pick out Jucifer from among the many bands we've seen that provide a performance worth talking about.
The first time I saw them, I spent money I hadn't planned on parting with to take home Jucifer's debut LP, Lambs, and later raved to Ed about this amazing band he missed out on. Since then, we've had a competition between us for the title of most Jucifer experiences.
My first experience with Jucifer live on stage was the last night of the original John Henry's club. If memory serves, it was Friday, May 3, 2002: They had to close so the building could be razed by St. Vincent de Paul for an apartment complex. At that time I had no idea what Jucifer's music was like, but when Amber Valentine and Edgar Livengood took the stage, it was like a dam breaking, sweeping us away on a river of sound. The two of them played in front of a wall of bass amps and speakers stacked from floor to ceiling — equipment I had wrongly assumed was to be shared among the four bands playing on that night's bill.
I thought that as each band played they would take their stuff and carry it away or stack it back up, but it wasn't until Jucifer played that I realized that no one else was touching any of the stuff. It was Jucifer's own arsenal. It was like standing in front of a giant rock and roll wind tunnel, an effect added to by the fact that Livengood played with a large fan blowing his hair around. Wearing a vintage dress and Twiggy-style pale face make-up and dramatic eyes, Valentine crooned in angelic whispers and devilish gutteral utterances. Livengood's arms never stopped wailing the entire time they were playing. With surprising subtlety and personality, given their massive sludgy sound, Valentine's angelic voice floated over the top of crushing drums, then quickly shifted gears into a monstrous groove, with Valentine growling like a death metal goddess. They were incredibly loud and we in the audience were witness to a rare and unbridled display of energy. Anybody who gets lucky enough to see them play "44: Dying In White" from their first album, Calling All Cars to the Vegas Strip, will see an instantaneous creation of more forward momentum than two mere mortals should be capable of.
Since then and the half-dozen other times we've seen them play, our appreciation for their creativity and dedication to their music has deepened, even as they've experimented with their sound and dynamic over the years. Their newest album, Throned In Blood, their seventh, came out in April. Their previous album, L'autrichienne, was a sprawling concept album that utilized everything from pianos to horns. On Throned In Blood, the duo returns to using just their primary instruments. Decibel magazine calls it their masterpiece, and "a religious experience." Go see Jucifer's show at Oak Street Speakeasy tonight and see if they don't quickly become one of those bands you too just can't stop talking about.
Jucifer, Parade of Storms and Kemosabe play at 9 pm Monday, Aug. 16, at Oak Street Speakeasy. 21+. $5.— Vanessa Salvia