JESUS H., Eugene, I hope you're over that nasty seasonal cold-thing that was going around, because you need to be ready to go out pretty much every night for the next week. Maybe twice. The pendulum is swinging back. It's time to de-hibernate, kids. We could only fit six previews in this week's music section, but there are at least three more places you'll find us in the next few days.
Yes, that's a band photo. For serious. It got my attention (and not just because it's not the dreaded Four Dudes Against a Wall). That's five-year-old Dahlia Crow and her pops, Abe Nobody (of Rye Wolves/Scrolls), who together are
Tarahumara
. I'm going to let Mr. Nobody tell you about his "conceptual psychedelic folk/drone project," as I've yet to have the pleasure of hearing the duo:
"I would like to point out being the proudest drone dad ever is great. I am quite certain that when Dahlia and I debuted Tarahumara last fall, Day 2 of the Eugene Noise Festival to a packed crowd @ the now dead Epicspace, we enjoyed one of the largest amounts of feedback that any of the 32 bands that played from all over received. She was fearless, played malleted, dare I say, avant-garde percussion over a woolly layer of psychedelic glacier melting bass drones and is eagerly awaiting her next all ages performance. I am pretty sure she is one of the youngest people ever to be in a psych/drone band and that in itself is pure and wondrous."
Tarahumara plays with al Queda (the band, not … you know), Demian Johnston and Robin McDougall at 7 pm Saturday, March 27, at the Wandering Goat. All ages, a few bucks.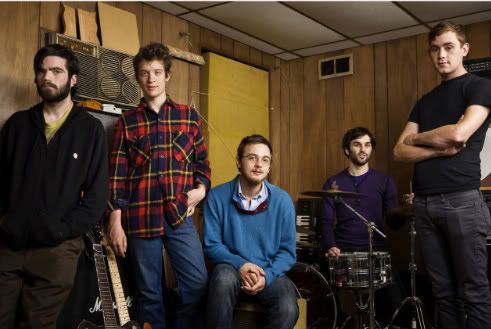 "We are Titus Andronicus from Glen Rock, New Jersey. Prepare to be amazed!"
I just saw critically adored Titus Andronicus in Austin, opening Pitchfork's showcase at the freezing cold, entirely outdoors Scoot Inn. The crowd was small but enthusiastic; a few less-hardy souls ducked out to hover around the firepit in the back of the venue while the rest of us tried hopelessly to warm our hands on tallboys of Lone Star and/or use taller members of the crowd as windbreaks. The band soldiered on in parkas and knee socks, tearing through a short set of tunes that a friend describes as "Conor Oberst fronting the Walkmen" and the music press calls wicked awesome. OK, I paraphrased that last bit, but TA's The Airing of Grievances was a 2008 buzz record, and the just-released The Monitor is garnering equally positive reviews.
The new record is a concept album; in press materials, bandleader Patrick Stickles says it "uses the American Civil War of 1861-1865 as an extended metaphor" as it addresses "topics of regional identity, emotional anesthetization, and the heavy yoke of trying to live decently in indecent times." Heavy shit, but played with fury and passion; TA's sound runs parallel to some other rough-hewn, regionally affected, American rock (think Hold Steady and Springsteen, who's referenced in The Monitor's first track), but then it flips its shit and spins out in an agonized and beautiful frenzy. "A More Perfect Union" is seven minutes long and deserves to be; full of ferocity and references and storming sing-alongs and unforgettable riffs, it's a mission statement, and one followed by "Titus Andronicus Forever," in which everyone chants "The enemy is everywhere!" and you feel like you're in a basement in New Jersey just fucking waiting for something to catch on fire or flood or otherwise turn into delirious, unforgettable mayhem.
Titus Andronicus and The Tunnel Kings play at 8:30 pm Monday, March 29, at 540 Van Buren. Free, all ages. The show is the first in a promising series of events presented by The Dropout.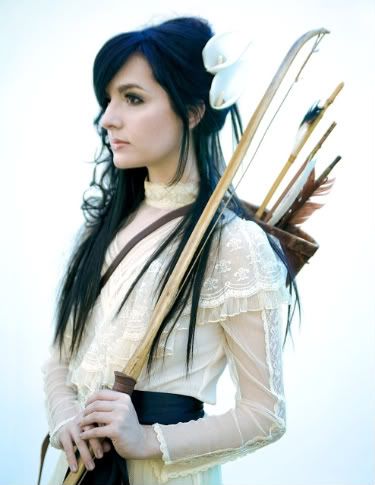 Eliza Rickman
does magical things with a toy piano. The plinking sound of the wee instrument is often used for an innocent, playful addition to a song, but under Rickman's hands, the eerier side of the toy piano comes out; just give "Black Rose," a mournful sigh of a song, a listen. "Lily Love" is a swoony pop song in miniature, but if you listen closely, you can imagine it transformed into a shiny, high-gloss radio hit. But why would you want it that way? Rickman's delicate songs have sturdier structures than you might expect. Her carefully controlled voice, clear and inclined to the bittersweet, makes most of her melodies sound like cousins to classic folk ballads; I wouldn't be surprised to find them in the big book of folk songs I used to try to play on the piano as a kid.
Eliza Rickman plays with Hannah at 9 pm Wednesday, March 31, at Cozmic Pizza. All ages, $5.