Not Holidazed
The Shedd's White Christmas works its pearl-buttoned magic
by Anna Grace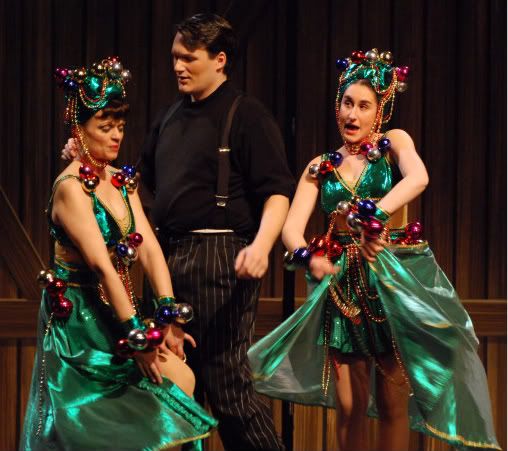 Image courtesy The Shedd
Settling in to watch my second White Christmas production in as many weeks, I prepared for another few hours of Irving Berlin favorites and Magic 94.5-style entertainment. That crazy team of hoofers and crooners would follow a sister act up to Vermont all over again, dropping hit songs and one-liners as they went. I expected to be entertained, but not moved. I was surprised.
The Shedd's production of White Christmas is among most beautiful musicals I've seen in Eugene. The set is lovely, interesting while simple. Costumes are stunning. Music director and conductor Vicki Brahbahm masterfully handles the magical score; director and choreographer Richard Jessup delights with a string of song and dance numbers that made me want to jump up and yell "Again! Do it again!"
But that would have been unseemly.
What makes this White Christmas work is that it has all the fabulousness of the film version, without trying to be the film. Particularly commendable are the lead actors who sought to create unique characters in the shadow of their famous forerunners. Notable was Bill Hulings (fans of Willamette Rep will remember him as a Shakespearean actor), who brought soul and honest emotion to his Bob Wallace. Peg Major flat out rocks as Martha Watson. A number of ensemble members also managed to carve out small but fascinating characters for themselves, creating a realness to the production. The audience is struck with the sense of watching a group of show folks at a moment in their lives, rather than watching four lead actors with a bunch of people behind them just putting in time until they can get to the front of the stage.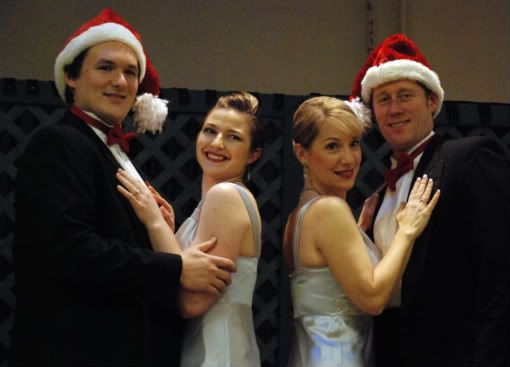 The four leads in The Shedd's White Christmas. Photo courtesy The Shedd
Not all the characters survived translation intact. Gregory Paul Mathans (Phil Davis), while amusing and a beautiful singer, fell in on the wrong side of the thin line between irascible flirt and sleazy. This could have been hysterical, but paired up with Ecatrina Muller's charming, fresher-faced Judy Haynes, their romance didn't quite work.
Casting a faint dim on the professionalism of this show were a very few things. Jessup has a vision, yes, but not all the feet on stage could keep up with it at all times. Some actors seemed nervous, perhaps because much was being asked of them, and there was an opening-night awkwardness of juggling of props and costume pieces. And White Christmas does glamorize the tricky 1950s. An hour into this play you will be looking to eschew your funnel dress and Ugg boots in favor of pumps and pearl-buttoned sweaters. You'll head home with a mind to rent Band of Brothers, again. If you don't want to feel a little patriotic and swoon at a love affair that takes less than a week to come to fruition, stay home.
Because if you go, the spirit'll getcha. This delightful, professional production is a must-see for fans of musical theater. My Christmas wish this year is that the Shedd's White Christmas plays to a packed house every night. That, and a pearl-buttoned sweater.